| | |
| --- | --- |
| 2006 Mar 11 | one super long monster update |

The longer I wait, the harder it is to bite the bullet and re-enter the Diaryland workforce. The truth is Iíve been horrible about staying in touch with just about every single person in my life. Email is typically my only method of communicating with family and friends so it should tell you something when I admit that I still have an email to return from a dear friend dating back to July 2005. The longer I wait, the more embarrassing it becomes and what do I say to justify it?

Iím back. I canít believe itís been over a year since I wrote an entry. With that in mind, I have written a recap of what has been monopolizing my time for the past 14 months:

In February, 2005 I returned to work. I now work 20 hours/week which is just perfect. I look forward to my days in the office and look forward to my days at home with Isaac. I work short days Mondays, Wednesdays, and Fridays so that I have a break from the office in-between days and Isaac has a break from daycare in-between days. It doesnít matter as much anymore because he now loves daycare. I sometimes take him to daycare on a Tuesday or Thursday so that I can run errands and/or get some precious time to myself. Itís a win/win situation for both of us.

We had a lot of stressful issues regarding daycare when I first went back to work. The first daycare we used was right in my office building. It was an ideal set-up...or so I thought. The problem was that Isaac was sick for 7 weeks straight starting his second day there and lost so much weight that he dropped off the pediatricianís weight graph. When he regained his health, he never really regained his good eating habits, prompting numerous doctor visits and an appointment with a pediatric nutritionist. Still, at 22 months old, heís not very interested in food and remains at the low end of the pediatric weight graph. At least he's back on the weight graph.

We kept him at the daycare facility in my office building for 2 months then moved him to a nannyshare. In this set-up, we shared a nanny with another family whose daughter was 6 weeks younger than Isaac. Isaacís health improved dramatically because he wasnít exposed to germs from 20 different kids at a large daycare so I thought our new nannyshare was the ideal arrangement. However, we had zero flexibility with the nanny because she was a college student and at school on the days she didnít work as a nanny for us. We also had a couple major misunderstandings. Toward the end, I was worryied about Isaacís well-being when he was with her. It was more of a gut instinct and hard to rationalize, especially because the other family loved her and had no problems whatsoever. We eventually gave our notice and found another place.

Isaac has been at the new place since last August. It is the perfect arrangement. It is a small daycare 5 minutes from our house that only takes 1-3 year olds, kind of like a "pre-preschool". The daycare provider loves and honestly cares about Isaac, even calling to check up on him on the days heís sick. She gushes about what he did that day/how smart he is/how cute he is when I come to pick him up. Isaac has so much fun and runs around and plays with the ďolderĒ kids. Heís also been learning the alphabet, shapes, and colors. This daycare is also very flexible. Since we pay for up to 40 hours, I can take him to daycare any day I choose. This has come in handy when Iíve need to rearrange my schedule for important work meetings.

I should also note that using cloth diapers has not been an issue for any of the daycare providers we looked into and interviewed. I was so relieved to discover this.

Isaac turned 1 last May. Always the non-entertainers, M and I didnít want to call it a "birthday party" so we sent out Evites asking our friends and family to join us in our neighborhood park, Golden Gate Park, for a Play Day. Grandma Zaugi and I made dozens of cupcakes for everyone. We had a big turn-out and Isaac had so much fun even though he missed one of his naps.

In August my grandma died. It was and still is extremely painful for me. I was very close to my grandma. I think of her often and miss her terribly. Her will only included one thing, the thing most precious to her: That I should inherit her beloved doll that once belonged to her great-great-grandmother. I am honored but donít feel qualified to keep something so precious and valuable. I need to get it appraised because I have no idea how old it is and how to care for it.

Not even a couple weeks later, Hurricane Katrina ravaged the gulf coast states. Already emotionally raw, it was really hard to deal with. New Orleans is one of my favorite cities in the entire world and it killed me inside to see it destroyed. Feeling helpless and wanting to help, both M and I volunteered our time to the American Red Cross, donated money and thousands of frequent flyer miles, and signed up with an SPCA-related agency to shelter displaced animals. I briefly worked as a case worker with the Red Cross and M signed up for deployment to the disaster area and attended the one-day intensive training but wasnít needed after all.

I think itís apparent that I donít deal with disaster very well. I still cry when I think about September 11th, the Tsunami, and Hurricane Katrina. So much suffering, so much destruction.

In October, I taught my first cloth diapering class. It was a free workshop that I volunteered to do as part of a maternity and new parent expo. There was a big turn-out and it went really well.

In December, I finally sold Beautiful Beast! The guy who bought it was the perfect buyer so I ended up accepting $1,500 less for it than asking price. At that point, I didnít really care and wanted it gone. Moving it every week for street cleaning was becoming a huge chore since it wasnít regularly driven and sometimes needed to be jump-started, which M had to deal with. The stress was causing tension in my relationship with M.

Iíve been trying to seriously lose these last 8 pregnancy lbs since January. Actually, I donít even think I can blame pregnancy anymore since that was about 2 years ago. *sigh* I signed up for Sparkpeople on January 2nd and was great about tracking my daily calories and meeting my daily nutrition and exercise goals. However, my weight did not budge. I think the problem with Sparkpeople is that it caused me to obsess about everything: my calories, my fruit & veggie intake, my exercise intensity and frequency, etc.

Finally, I stopped visiting Sparkpeople and, hence, obsessing and decided that I may just have plateaued with my exercise routine. I changed my routine and immediately saw results. I lost 5 lbs in the past month and have just 3 lbs more to lose until Iím at my goal! Yay! And for the record, itís amazing how much better my clothes fit just after losing 5 lbs. Who knew?

Around the time I joined Sparkpeople, we decided to sign up for an organic fruit, vegetable, and non-perishable grocery delivery service. Because it's kind of like being in a large co-op, we are offered reasonable prices and excellent quality. I have to admit that the organic produce has spoiled me. I now refuse to eat non-organic produce because it tastes bland and spongey in comparison.

Iíve also recently developed an obsession with pricey designer jeans. Now Iím playing The Jean Game, also known as How Many Pairs of Jeans Does One Person Need to Own? Itís honestly ridiculous.

Last month I taught my first paid cloth diapering class at a local baby boutique and will be teaching another next month. The owner of the boutique wants it to be part of her regular curriculum. She also offers regular courses on childbirth preparation, newborn care, how to find a doula, prenatal and pregnancy nutrition, breastfeeding, and infant/child CPR.

So thatís really my past 14 months in a nutshell. Everything is going really well and I have no complaints.

Isaacís second birthday is rapidly approaching and we need to figure out what weíre going to do to celebrate. I think weíll have to rent a place because our house certainly isnít large enough to hold all our family let alone friends, too.

Isaac is so much fun and is definitely getting "easier" as he gets older. I think itís because heís always been so independent; he becomes happier as he acquires new skills. Now heís running, jumping, and talking. He has just started putting 2-word sentences together. Itís exciting! Heís such a character.

We naturally watch a lot of PBS now. Iíve noticed several of the shows include a lot of adult humor, which M and I both appreciate. Just last week on Sesame Street, they had a segment called ĎDesperate Houseplantsí. One of the plants said she needed more sun and the other said she needed more water. A hunky puppet gardener walked by and the scruffy plants said breathlessly, "Oooh, thereís the gardener. Do you think heíll notice us?" He did... and he knew just what they needed.

On the cartoon Arthur, Arthurís little sister, DW, was mistakenly calling guest star Yo-Yo Ma ďYo MamaĒ repeatedly.

How absurd is it that Iím quoting childrenís shows?! I guess it shouldnít be so surprising; itís practically all we watch now that we donít have time to watch our Netflix shows.

Last night it snowed here in San Francisco. The media went crazy. Yes, there were probably snow flurries but what stuck on the ground was hail. I really didnít understand their hysteria. Yes, it hails here several times a year and itís nothing new... although I guess last night it was the longest it had stayed on the ground without melting. This morning we learned that there was a 31-car pileup just across the Golden Gate Bridge on a steep curvy section of the freeway because of the ice. In the tragedy, two people died.

I am eager to catch up on all my favorite diaries. Iíve already quickly read through a few entries of a few. Itís strange, like Iím reminiscing with old friends just by reading the entries.

I will leave you with a couple recent photos of Isaac, taken last month:

Capturing my cuteness, huh?!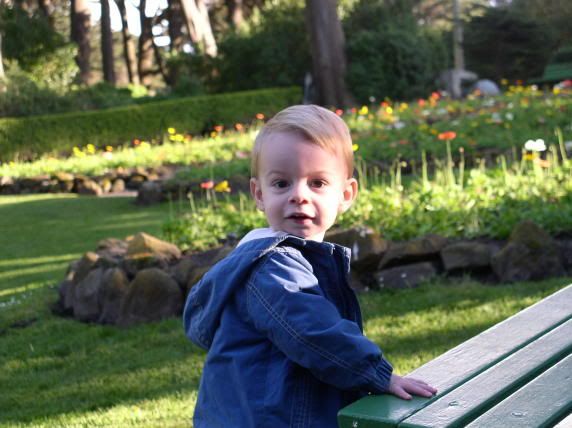 Look, I found a seashell!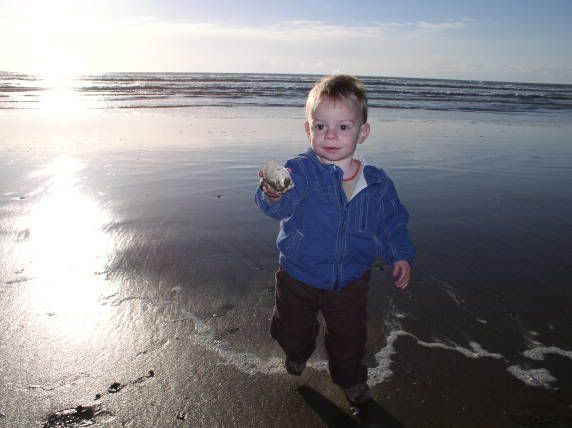 I'm off to work out, give myself a facial, then climb into bed. Good night!